This was a litter of 7, all reached the age of 12 and Aphrodite even 15 almost 16 in full health. In each litter, I only select those that have had a show record or somehow have been of importantce due to it's off springs for me or any else breeding.
| Multi ch. El Ubaid's Anastasia | Multi ch. El Ubaid's Anastasia |
| --- | --- |
Multi ch. El Ubaid's Anastasia reserve world winner, reached the age of 13 years in full health. Even on high age past age 10 she won reserve bis at the famous luxemburgh show over more than 5.0000 dogs. She was a remarkable bitch from character, soul. Even leaving specialist at the University of animal health care speechless about her condition even at age 10 and 11 , everybody thought it was a 6 year old bitch. Anastasia her legacy went world wide. Even in 2010 many breeders consider her as a bitch not to fault. Anastasia produced many multi cvh and even their off springs easily gained their champion titles.It would be a crazy attempt trying to find all her champions off springs world wide. She was dam the C, D, E and G litter.
| Multi Junior winner El Ubaid's Aphrodite | Multi Junior winner El Ubaid's Aphrodite | Multi Junior winner El Ubaid's Aphrodite |
| --- | --- | --- |
Multi Junior winner El Ubaid's Aphrodite photo left not yet 2 years old, her feathering was amazing. Aphrodite had the elegance and head but a bitch that was so gentle, even did not to say no, or enough is enough. Unforttunatly her owner did not feel like taking part any more on dog shows, which I could understand since life has a lot more to offer than the vicious dog scene. Aafke as Aphrodite was called, on photo in the midle with just whelped B litter. She was a fantastic dam.Aafke on photo 3, almost 16 years in full health, shortly before the flame went out. She was an exceptional extra ordinairy bitch from soul, character and beauty.
So, actually El Ubaid's continued on the lines of Anastasia and Aphrodite.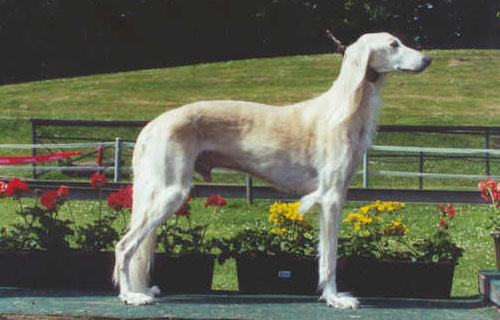 Multi ch.El Ubaid's Abdull Aziz age 11 on photo
International, Dutch, Luxemburg Champion, Brussels Winner '93 and '94 Top Saluki NL '94 El Ubaid's Abdull Aziz. Abdull Aziz sired the Aziz G litter in Finland. We never bred from him, since he had his sire's temperament. But he truly was a fantasic male by construction. He and his litter sister Anastasia, were handled by me , at same shows. Since dogs enter the show ring before, he gained the cc and ib and that I entered with Anastasia, judges had a hard time, give one handler, one breeder, winning bitch and winning dog. They could get accused of politics. Therefor Abdull Aziz often got the best of breed and his sister Anastasia far more better, the reserve winners bitch. It happened once that a judge inspite all, gave me the best bitch and best dog but as those two had two go against each other in the ring being handled by me. He came to me and said; Well, it is an impossible situation you left me with but the best of breed is the bitch. They have been often best pair all breeds on the Belgium winner. However, as Abdull Aziz finished his titles, I simply went just with Anastasia and she truly did a great job.
uring the 90ties, the rule in the Netherlands was, even if the bitch was already a champion, the points the cc still went to winners bitch or winners dog even if theuy were already champion. Meaning as long as I showed her, almost no otther saluki bitch or dog as I showed her litter brother as well, could gain the Dutch champion title. That lead to a lot of hate.
Anastasia was top saluki bitch number 1 in the following years; 1995, 1996 and 1997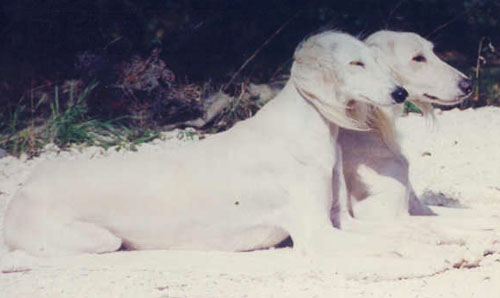 multi ch.El Ubaid's Abdull Aziz & multi Ch.El Ubaid's Anastasia