It was in 1995 or in 1996, I had seen the very young at that time sire of this litter advertised in the US American saluki magazine. His movement truly impressed me and I wanted to uise him at stud.He had won BIS on world largest saluki's show, the Kentucky.
There was no information to be found around his owner. As I went to the worldshow in Puerto Rico in 1997, by co- incendence this owner's godmother approached and was totally in love with my Anastasia. It would be in 2001, I contacted finally the owner of this male and find out it was his god mother I had met in Puerto Rico. An island, never to forget.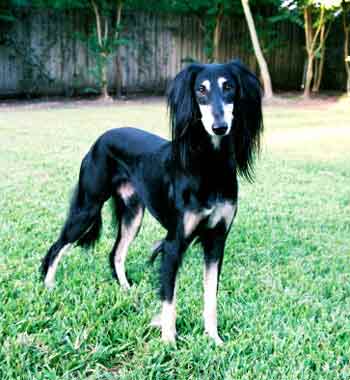 USA Ch.Bisw.Kentucky Jen Araby Farouk .
| Multi Ch.Internat.Ch.jw.98 El Ubaid's Dignity in Houston. | USA Ch.Bisw.Kentucky Jen Araby Farouk . |
| --- | --- |
El Ubaid's Hera
El Ubaid's Hera became dam to kennel Matanah´s first saluki litter in Sweden. She might be bred again in 2010. A line breeding to Sw.Ch. El Ubaid's Genesis'son ,sw.ch.Khalil´s Obiajulu ben Genisis
Our pick dog from this was stolen and even if we that get a refund setled in the Dutch court it remained a painfull happening.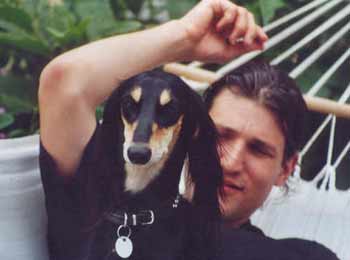 El Ubaid's Hebe
However, we have been more than lucky that our life time friends owning El Ubaid's Hebe, allowed us to use her to produce our L and R litter.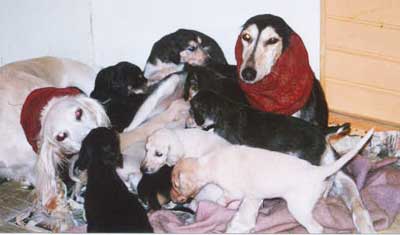 My Beloved salukis; Anastasia and daughter Dignity.
***My G litter ( dam my beloved Anastasia) containing only whites and grizles and my H litter (dam my beloved Dignity) were born six days apart from each other. It was great to see how mother and daughter were taking care, nursing each others puppies in the same whelping box in the same nusery. My H litter due to the total out cross was very different from the usual El Ubaid's breeding but it expanded gene poles. We had a very hard time in Houston but also marvelous times.